I've stayed on the fence and tried to avoid the hype as much as possible with this fight as much as possible.
It's a mass marketing exercise in making lots of money on a global scale.
It seems to me that its all about Mayweather making yet a few dollars more and getting his record to 50 and 0 and for McGregor simply about making barrel loads of cash, probably much more that he'll ever make from UFC. That's my take. Maybe I'm wrong.
As a sporting contest I can't help thinking people are being sold a total circus and a dud of a fight.
Mayweather v Pacquiao was meant to be the fight of the century and that turned out like the rest of Mayweather's fights – routine.
Ladbrokes are probably the shrewdest of the bookmakers and they are trying to sell 33/1 McGregor as a massively inflated price to entice new customers in. Frankly he should be at least that price in all books as far as I'm concerned.
He's fighting a man who has came up against the best of the best boxers, fighters that have spent careers improving and fighting their way up through the professional ranks. None of these fighters could get close to beating Mayweather.
Now he is off the back of a lay-off and all that, but I cant buy any MMA fighter having a shot against someone of Mayweather's boxing ability. Sure he has a punchers chance, but its remote at best.
Something like this being a one off event with an MMA fighter making the cross over to boxing carries an element of the unknown, but the most likely outcome is another defensive performance and points victory for Mayweather.
9 of his last 10 fights have gone the distance.
With all that in mind, Betstars offer seems the best of the bunch: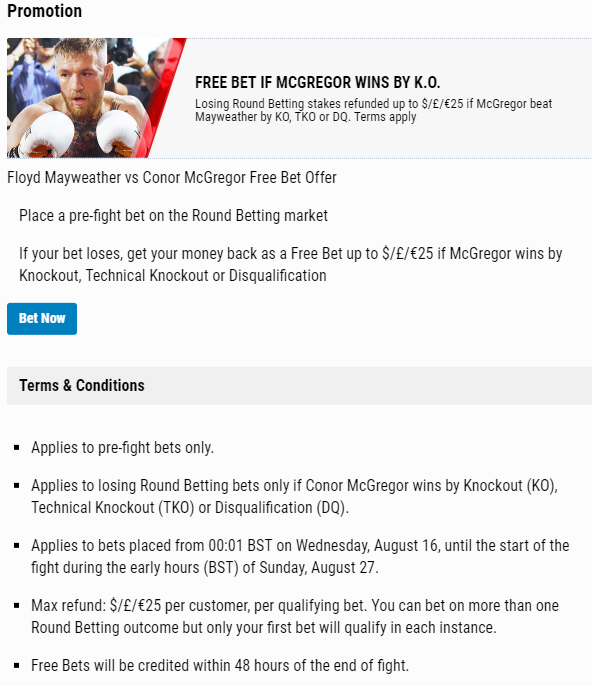 So, with the safety net of an unlikely McGregor KO we can bet Mayweather on Pts @ 9/4.
£15 Mayweather on Pts (Round Betting Market) @ 9/4 with Betstars (money back if McGregor wins by KO)
Note: Since I wrote this, Betstars went from 5/2 to 9/4, and you can now get 3/1 on the Mayweather pts victory on the exchanges, which is a good option if you agree that there's a very low chance of a McGregor by knockout result.
Update 26/8 Hills have a boost offering Mayweather on pts @ 4/1, take that if you are yet to bet.
Another bet, which is kind of a saver on the above bet, is Skybet's "oddschecker special":


I like the rationale behind this one, the UFC fighter will certainly be fit and ready and has plenty of stamina being used to 5 minute UFC rounds, he can also take a punch and get back up. But this isn't the Octagon and lying on the floor in a closed guard aint an option, you've got to stand up and and take punches again. If Mayweather fancies it, he could get rid of McGregor in the last quarter of the fight.
Mayweather to win by KO or TKO in Rnd 9-12 and McGregor to be knocked down 2+ times £3 @ 10/1 Skybet.
---