Time for a brief review of the past season, which included the World Cup.
This was the first season in which I broke everything down into categories so we'll have a look at what we achieved in each.
The profit totals over the 12 month period was as follows; Accas + £24, Freebet Offers +£1393, Promo Prices +£24, Antepost +£401, Value -£8.
Total £1834.52
So a decent profit total which I'm fairly happy with, but I'll dig down an bit and analyse each of the categories.
Accas: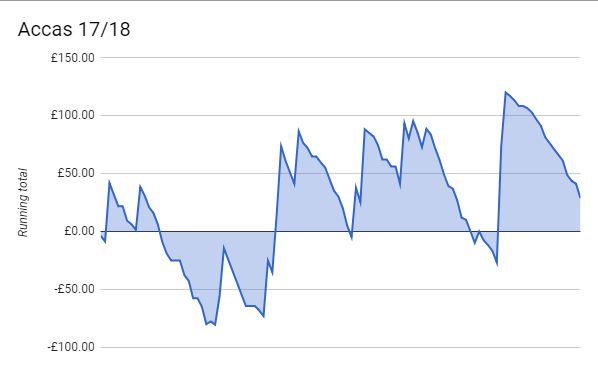 A stop – start season for the Accas which ultimately failed to kick on. There's no avoiding the fact that there simply wasn't enough winners and coupled to that there wasn't enough getting the money back either. You can have some seasons whereby the strike rate drops off and it could be that we were due a correction after some marvellous results in previous seasons. We have been affected by a number of firms changing their Acca insurance terms to exclude lower odds selections but as things stand Ladbrokes at least have a commitment to offer 5 team Acca insurance over any matches, with min odds per selection of 1-10, and I think the strategy still has lots of juice in it. I will be working hard to try and focus on high quality selections and hopefully achieve better returns next season.
Freebet Offers: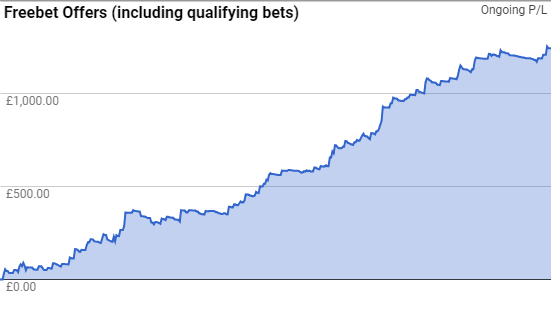 This is where the bulk of the action took place this season, where the approach has been to maximise the freebets by trying to land decent priced winners, whilst also keeping a relatively consistent strike rate without too much faffing. Sometimes the approach is to risk the the qualifying stake without laying off and accepting a small loss, sometime the best approach is to accept a small loss on the qualifying bet knowing the value lies in the freebets or the concession (money back if "x happens" for example).  Some people might prefer an approach that doesn't involve qualifying bets, I'd be interested in hearing your views. Either way the profits were there from what I advised and backed myself. There were lots of doubles, trebles, correct scores and inplay bets advised along the way. Winning highlights included Liverpool @ 18/1, who we backed at 1-0 down against Man City at Half time during the Champions League quarter final 2nd leg, a tie that was effectively over for City when Liverpool got the next goal, Liverpool went on to score again to record a 2-1 win. And Keiran Trippier landing a 20/1 freebet winner scoring against Croatia in the World Cup semi.
Although there was a healthy profit, I'm actually of the opinion it perhaps should have been more with a more healthy slice of luck as there was a great number of nearly bets, that said they are not worth pondering on.
Promo Prices: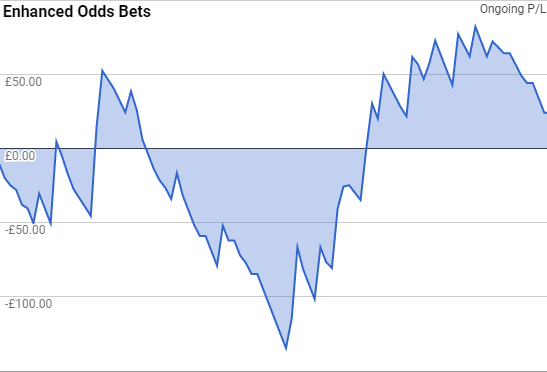 These are all the bets at enhanced prices, that don't involve freebets or anything else, they are straight win/lose situations.
A small profit in the end but a topsy turvy ride in which we were actually £135 down at one point. Perhaps I got my staking advice wrong on some occasions on these and perhaps missed the odd offer that won, but bottom line is there's still plenty of opportunity with these bets, they are profitable long term,  and I expect we'll have better seasons than this.
I'm looking at the best enhanced prices only and I do discount a lot of offers, and over the 100 bets it only takes a few more winners to make a big difference.
Antepost: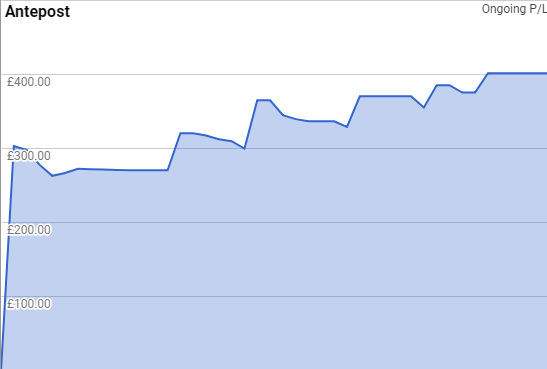 The majority of our Antepost profit was banked from the winning 20/1 season five fold (along with all the four folds), which looked good from early in the season and went to looking pretty much home and hosed when Fulham started their winning run. We added to that with the World Cup antepost offers which added another £83, which could have been more to be honest if not for a wildly unpredictable tournament. We did get Croatia into the final e/w at 30/1 however. The Antepost bets will always be dependant on landing one or two big priced bets, but so far they have proved very valuable and I will be putting in more research to try and find value in the Antepost markets going forward.
Value Bets: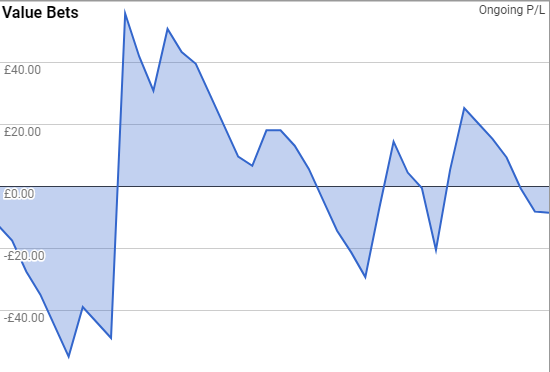 Value bets is just where I've put everything else that doesn't fall into one of the other categories – a roundabout break even season from a relatively small number of bets.